Washing Machine Review and buying guide India from different Manufacturers, based on its Type, Features and safety.
In today running life, no one has time of hobby to wash dirty clothes manually.
Machines are available to do this job.
Washing Machine is the essential part of our daily life, as it reduce our efforts and save energy to wash clothes manually.
We will suggest you the best one from each type whether Front load / Top load in each capacity range with its buying guide.
Review on Best 5 Top Load Fully-Automatic Washing Machine
1. Samsung 6.2 Kg Washing Machine WA62M4100HY
Washing Capacity – 6.2 Kg
Best for Small and Medium Size Family
Design
LED Display made its look cool and tempered glass ensure you for its durability
Diamond Drum
With 6 washing Cycle and 680 rpm rotating Diamond Drum will make your clothes clean without damage to its fabric
Free From Detergent Residue
At the end of Washing, Clothes will be free from Detergent Residue which make your cloth looks good and keep your skin healthy
Quick Wash
This Function will wash your little dirty cloths quickly and efficiently, so you can engage yourself doing other activities
Centre Jet Technology
This technology will wash your clothes very efficiently as it comes from the centre of the Pulsator
Safety
When Child lock is enabled, the icon will display on Screen, and cycle will locked, keeping you worry less from your kid to press any button
---
2. IFB 6.5 Kg Washing Machine RDW Aqua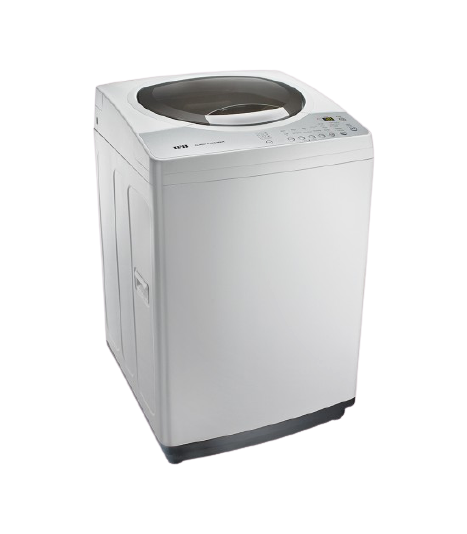 Washing Capacity – 6.5 Kg
Best for the Family of 3 to 4 members
Drum with 720 rpm
As high the rpm, the drying time would be lower, so you will get clothes dry in less time
3D Wash System
With this Features, detergent get dissolve better, and clothes will have soft wash
Triadic Pulsator
It will ensure clothes corners washing too
Aqua Spa Therapy
This programme will prevent your clothes from any damages
Auto Balance System
When you overload the machine, it will automatically sense it and wash clothes as per load
---
3. LG 6.5 Kg 5 Star Washing Machine T65SKSF4Z
Washing Capacity – 6.5 Kg
Best for Bachelors and Couples
Energy Saving
5 Start Rated Smart invertor motor, will save your electricity and money too
Faster Drying
Its 780 rpm Drum will dry your clothes very fast
Powerful Washing
It will wash the toughest dirt from your cloth too, with its Strong Water Stream
Smart Diagnosis
In case of any problem, you can connect to Smart ThinQ App, which will save your time and energy
Power Cut Operation
In case of Power Cut, the Machine cycle will re start at the same stage where it was stopped, when power resumes
Child Lock
Enabling child lock will disable its control panel
---
4. Bosch 6.5 Kg Washing Machine WOE654Y0IN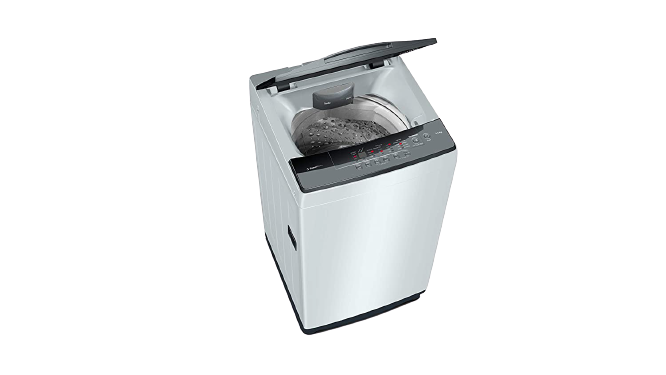 Washing Capacity – 6.5 Kg
Best for 3-4 Members family
Operation
One touch Start automatically with selected cycle
Compact Design
Soft lid ensures you the durability of door
Cleaning
Separate Tub Cleaning Function, to keep your machine internal system clean
Programmes
8 Different programmes will cover all types of your cloths Material
Water Levels
8 Various Water level to wash at different conditions
Safety
It has child lock which disable the control panel, to keep your operation safe from unwanted touch to buttons
Machine will stop automatically, if the door is opened while running cycle
Alert
It will indicate at the washing operation completion through buzzer
---
5. Haier 6.2 Kg Washing Machine HWM62-AE
Washing Capacity – 6.2 Kg
Best for Small / Medium Size family
RPM
With 800 Drum rpm, clothes will get dry quickly
Programmes
8 Different Wash Cycles will wash all type of cloth material
Oceanus Wave Drum
Stainless Steel Drum with Cubic shape enables stronger water flow and abrasion less washing of your clothes
Design
You can see the washing cycle live through its transparent Lid
PCM Cabinet which is made of metal and coated with anti rust alloys, ensure long life of product
Safety
It will not affect by children activity, while machine is in operation
Fuzzy Logic
This is an additional feature, though which machine sense environment condition and adjust cycle accordingly
---
Review on Best 6 Front Load Fully-Automatic Washing Machine
1. IFB 8 Kg 5 Star Senator plus SX
Washing Capacity – 8 Kg
Best for Large Size Family
Energy Rating
It has 5 Star rating, which will save on your electricity bill and money too
Panel
It has While LED touch panel, which give it an attractive look
Operation
Its 4D Wash technology, ensures all your clothes wash smoothly and accurately
1st wash programme for delicate fabrics
14 different washing programmes
Drum rotational speed – 1200 rpm
Repeat Wash
With this function, you can repeat the same cycle
Technology
Tub Clean options removes any bad odour as well as eliminates bacteria
Ball Valve prevents wastages and resulting in wash enhancement
Safety
Child lock which will ensure no response to child touch
---
2. LG 7.0 Kg 5 Star FHM1207ZDL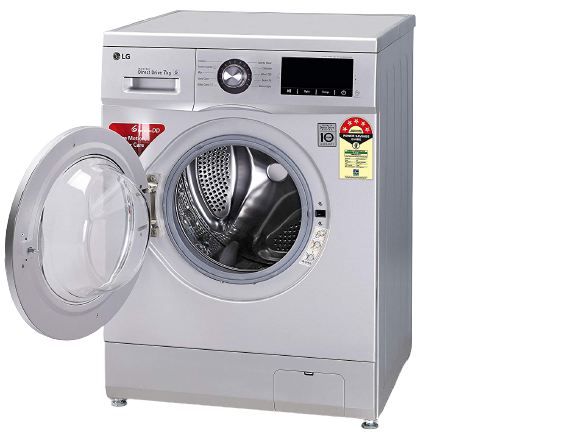 Washing Capacity – 7 Kg
Best for Bachelors and Couples
Energy Rating
With 5 Star Rating, it will save your Power and money
Technology
The Motor is connected directly to Drum, resulting Powerful Wash with less noise
6 Motion DD Technology ensures less damage to fabrics
Drum Rotation Speed – 1200 rpm
Operation
With 10 different Washing programmes, you can wash almost all fabric material
Design
It has waterproof while LED full touch control panel, which provides maximum visibility
Smart Diagnosis
It can connect direct to customer care through your phone, in case of trouble shoot
Safety
Child lock will ensure no interruption in running operation
---
3. Voltas Beko 8 Kg WFL80SP
Washing Capacity – 8 Kg
Best for Large Size Family
Drum Speed
1400 rpm Drum will dry your clothes quickly
Operation
It will sense the load automatically and make changes in cycle accordingly
Technology
It has in built heater which will make your clothes warm, before washing, resulting in accurate wash
Appearance
Its unique door contrast colour design make it different in look
Safety
Child lock safety ensures no response to child touch
---
4. Bosch 7 kg WAK24268IN
Washing Capacity – 7 Kg
Best for Small Size family
Operation
12 Different Wash Programmes will ensure almost all kind of fabric washing
The machine is equipped with auto load system, which sense the load and adjust cycle accordingly for best wash results
Technology
In Built water heater will keep your clothes warm ensuring soft washing
Design
While LED Display increase the visibility
Anti Vibrate body, will ensure very less vibration & less noise during the running cycle
1200 rpm Rotation speed Drum
Safety
The child lock will make the machine safe around children
---
5. Panasonic 6 kg NA-106MC2W01
Washing Capacity – 6 Kg
Best for Small Size Family
Design
Its Hexa cube Drum design will Give Massage treatment to your clothes, hence no fabric damage
Its Big door ensures, you load and unload clothes without any hassle
Operation
If needed, you can add clothes in middle of cycle too, with Pause button
Pre Wash ensures your clothes gets clean completely
Drum Clean option, keeps your drum safe from any corrosion and bacteria
Programmes
10 Different washing programmes, will ensure all kind of Fabric wash
Drum Rotation Speed – 1000 rpm
Feature
Built in Heater, will provide your clothes a hygienic wash
It wash clothes like as it is on mute mode, means less noise while running cycle
---
6. Samsung 7 Kg 5 Star WW70J42G0BW/TL
Washing Capacity – 7 Kg
Best for family having 3-4 Members
Energy Rating
With 5 Star Rating, you will save on your electricity and ultimately money too
Look
Contrast LED Display panel gives it an eye catching view
Drum Spin
With 1200 rpm Drum, you will get your clothes dry faster
Technology
Hygiene steam, will improve the cleaning quality of wash
Diamond Drum will take care for no damage to fabrics
Ceramic Heater will prevent rust on its surface, resulting in long life
Delay End
This function enables you to set the end of cycle as per your convenience
Safety
Child lock will make your machine safe from children activity
---
Review on Best 3 Top Load Semi-Automatic Washing Machine
1. Panasonic 6.5 kg 5 Star NA-W65E5ARB
Washing Capacity – 6.5 Kg
Best for the family having 3-4 Members
Energy Rating
Rating of 5 Star will save your electricity and Money too
Spin Speed
1350 rpm is the higher spin speed, which will facilitate you with lower drying time
Features
Air Dry feature will make your clothes dry quickly
15 Min wash will provide you the lesser wash time with high accuracy wash
Aqua Spin Rinse will not allow detergent to stick on your clothes after wash
Design
Powerful Motor will enables you to wash heavy clothes
Rust proof body can be used over years and years
Durable and Detachable Lids, will ease you operating the machine
Notify
Buzzer will inform you when wash cycle ends
---
2. LG 8 Kg 5 Star P8035SPMZ
Washing Capacity – 8 Kg
Best for Large Families
Energy Rating
5 Star Rating will save on your electricity bill too
Drum Spin
1350 rpm is enough for your clothes to get dry quickly
Wash Programme
Gentle, Normal and Strong wash programme covers all of types of your fabric washing
Lint Collector
It Collects Lint came out from Clothes, and giving accurate and clean wash performance
Roller Jet Pulsator
Roller causes, the additional friction to clothes, resulting better quality wash
Collar Scrubber
With it, collars get scrub, which will save your time and energy
Rat Away Technology
This Machine has 3mm Strong Plastic cover with Rat repellent chemical
Auto Restart
This function enables machine to Start the wash cycle from the same condition when it was interrupted, in case of Power cut conditions
Wind Jet Dry
This will Moisture is removed from Clothes and inside of machine interior
Magic Wheels
This machine is movable to anywhere and in 360° direction
---
3. Samsung 7.2 kg WT725QPNDMPXTL
Washing Capacity – 7.2 Kg
Best for the family having 3-4 members
EZ Wash Tray
With it you can pre wash your clothes to ensure better washing performance
Design
Its body is made of Plastic, hence its rust proof and ensure long life
1000 Drum rpm will ensure the faster drying of your clothes
Centre Jet Technology
This will create the Strong Jet of Water from the centre of Pulsator, which will give you the best washing performance
Double Storm
Your clothes will thoroughly clean with Double Storm, a powerful dual jet system that varies the flow of water to move fabrics around the drum
Air Turbo Drying system
Wet clothes and blankets take a long time to dry. During the spin cycle, the Air Turbo Drying System rotates the drum rapidly, while dual air intakes draw in more air. By removing more water from your clothes, the system helps them dry faster.
Lint Filter
A lint filter insider the washer collects lint, hair and other materials that separate from your fabrics during a wash
Caster Wheel
With inbuilt wheels, you can move the machine easily anywhere
Buzzer
Buzzer that sounds at the end of the wash cycle. By letting you know that your clothes are clean, the buzzer helps you manage your time more efficiently
Child Lock
It will ensure No response to Child touch when child lock in enabled
---
For More Product review, Please Click here and if you do not find product you want to review, please Contact us
FAQ
1. How to start your Washing Machine ?
It's very easy, you just need to switch on the power and then press the start button to initiate cycle.
2. Where should we keep washing machine ?
You need to keep the washing machine where inlet and outlet pipes can be easily adjusted.
3. What is the price of Washing Machine ?
Price is completely depends on the type of machine and its specification.
4. How many times a day can I use my Washing Machine ?
Advice to use machine only when you have full load to run the machine to save your power bill.
5. Which is the best Washing Machine ?
All companies are making best washing machine, you need to see which the best fit machine to your requirement will be the best machine for you.
6. What is the best place to buy a Washing Machine ?
Online ! because, there is always an assurance of money back if something goes wrong with the machine just after purchase it.
7. What is wrong with my Washing Machine ?
You need to check which function is not working for you.
Then you can decide what to do, also you can contact the service centre of your washing machine manufacturer too.
8. Which is the best colour to chose for Washing Machine ?
There are many colour and designs from which you can chose, but the best and most likely colour is WHITE, which you can chose as an universal colour.
9. Which is the best time to Buy Washing Machine ?
Summer ! Because there will be less requirement of machine where clothes are dried very quickly.
In Winter and Monsoon there is high possibility of more drying time compare to summer.
And due to low demand in summer, prices are also on down trend.