LED TV Reviews from different brand basis on its Quality, Durability, Safety and Features, which will make an urge to Purchase it in particular range of series
In modern world we all use LED TV of different size screen display, we will review here, different size display and its functions which will assure your purchase is made one of pleasant experience.
Samsung 32 Inch T4010 HD LED TV (UA32T4010ARXXL)
HD Picture Quality
1 In Built USB Port
2 In Built HDMI Port
Slim and Stylish Design
Auto Channel Search
Game Mode
Net Weight – 3.7 Kg
This TV has Slim and Stylish Design which will look attractive in your home along with other appliances
2. Sony Bravia 32 inch HD Ready Smart LED TV 32W6100
HD TV Screen
Exceptionally Clear Sound & Picture
Access to You Tube with One Button press on Remote Control
Dust, Humidity, Power Surge, Lightning Proof
HDR Gaming Performance
2 USB + 2 HDMI Port
USB Tethering Option for Smart Phone Connection
Multi Indian Language for Various Settings
Aluminum frame on Screen looks aesthetically pleasant
Photo Frame Mode
Net Weight – 4.8 kg
It has special feature of Direct Connect to You Tube from Remote, which will save your time and increase the connective speed to You tube
3. LG 32 inch 32LK628BPTF HD Ready LED Smart TV
Powerful Dolby Sound with Built in Woofer
Active HDR
3 HDMI and 1 USB Port
Supports Wireless Connections
Magic Remote can be operated from Any corner in the Room
Share Screen Option
Multi Tasking Supported
Expandable In Built Memory
Application support
Weight – 5.9 Kg
This TV Supports Wireless Connection, which will cause in Quicker Connectivity to variety of Wireless Devices
4. Mi TV 4A PRO 32 inch Android LED TV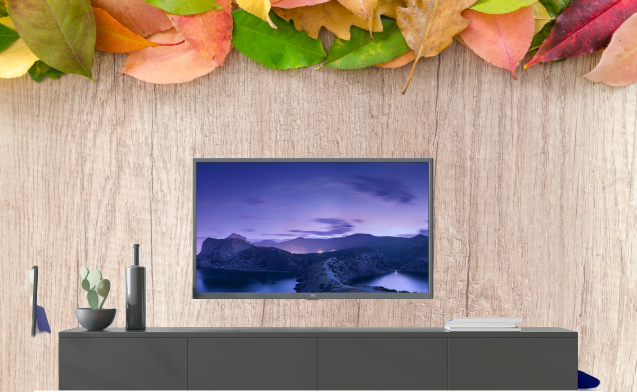 Android TV
Ultra Bright HD Ready Display
3 HDMI and 2 USB Ports
Powerful Stereo Speakers
Google Assistant
Patchwall Support
Phone Mirror Option
Multiple Connectivity Options
Netflix, Prime Video and Data Saver Feature
Memory Storage Up to 8 GB
Weight – 3.9 Kg
Phone Mirror Option is added advantage on this TV
5. TOSHIBA 32 inch Vidaa OS Series Smart ADS LED TV 32L5050
Powered by VIDAA OS
Slim and Stylish Design
2 HDMI and 2 USB Ports
ADS Panel Enables Wide Viewing Angles
Faster Re-Boot & Quicker Channel Search
HD Pictures by CEVO Engine Premium
Elegant Metal Stand
Active Motion Resolutions for Moving Pictures Capture
Full DH Display
Picture Optimization feature
Screen Mirror Option
Weight – 3.4 Kg
You can View this TV from Any Angle with the same display result as bulid in ADS Panel which enables Wide View Angles
1. Panasonic 40 inch Smart LED TV TH-40HS450DX
Full HD Resolution of 40 Inch Display
Android OS with Google Assistant
Natural Skin Tones and Colours with Bright, Sharp Images
Google Play Store & OTT (NF, AP, YT, Hotsar, Zee5, Jio Cinema)
2 HDMI & 2 USB Ports
BT Smart Remote with Google Asistant
Weight – 5.9 Kg
It accompanies the Bluetooth Smart Remote with Google Assistant which will connect direct to google from your remote
2. Sony Bravia 43 inch LED Smart TV KLV-43W672G
Display Size – 43 Inch Full HD
Clear Sound and Powerful Bass with Built in Woofer
High Dynamic Range (HDR)
Access You Tube & Netflix with 1 Click on Remote
Set Top Box and TV can be control with common remote
2 USB and 2 HDMI Ports
Protection from Dust, Humidity, Power Surge & Lightening Strike 
Hidden Cable in the back side of Screen making your view easy
Cable Holder keep the cable Neat and clean at the back of Panel
Internal Memory – 4 GB
Unit Weight – 7.8 Kg
It has Cable Box at the back side of panel which will serve the purpose of Cable Storage and cleaning also the product will look good and cable less
Also you can Access You Tube and Netflix with the single click on remote
3. Mi TV 4A PRO Android TV
Display – 43 Inch with Full HD
Smart Android TV
Powerful Stereo Speakers
Google Voice Search
PatchWall with Massive Content
Built in Chromecast
Sport Page
Horizontal Scroll
Universal Search
Common control for Set Top Box and TV
Data Saver
Phone Mirror Option
3 HDMI and 3 USB Ports
Memory Storage – 8 GB
Multi Connectivity Options
Supports Table Top and Wall Mounting
Weight – 7.4 Kg
This TV has enough Storage Capacity, enabling you to store your Data, Images, Videos in its memory and can play or watch anytime whenever required
4. Onida 40 inch Live Genius 2- Rock LED Smart TV 40FID-R
Display – 40 Inch Full HD
Android Smart TV
Powerful Stereo Sound
ADS Panel
Multi Connectivity Option
Wide Viewing Angle
Mira Cast Support for Phone Connection
2 HDMI and 2 USB Ports
Internal Memory – 8 GB
Weight – 8 Kg
It Supports Wireless Connectivity through Mira Cast, by which you can connect any Smart Phone Easily and take joy of the Entertainment Media in your phone
5. Samsung 43 inch 4K Ultra HD Smart LED TV UA43TU8000KBXL
Display – 40 inch Crystal Ultra HD with 4K Resolution
Voice Assistant
In Built ALEXA
Powerful Speakers
Can Mirror the Computer on the TV Display wirelessly
Ambient Mode
Gaming Mode
Auto Chanel Search
Home Cloud Feature
Live Cast for Phone Sharing
3 HDMI and 2 USB Ports
Weight – 8 Kg
It Can be work as computer with Screen Mirror Option, enabling you to do your office work on such larger screen
6. Mitashi 43 inch MiCE043V30 FS Full HD Smart Curved LED TV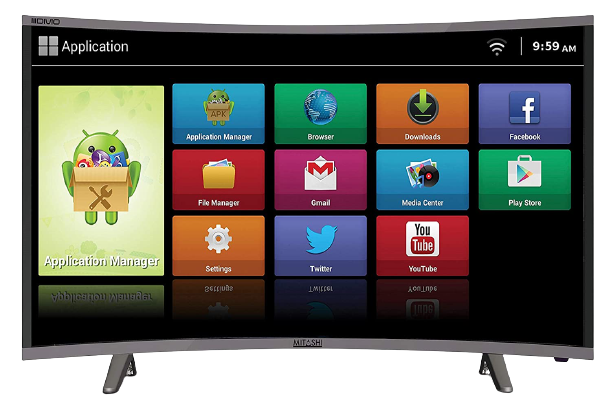 Curved Screen Display – 43 inch Full HD  Resolution
3 HDMI and 2 USB Ports
Screen Mirroring
In Built Wi-Fi
Super Slim Panel
Powerful Speakers
Can be operated from Smart Phone
Gaming Mode
Low Power Consumption
Weight – 9.5 Kg
It has Curved Screen which will enable you to watch live screen from any angle of your room without any trouble or distortion.
1. Mi TV 4X 50 Inch 4K Ultra HD Android LED TV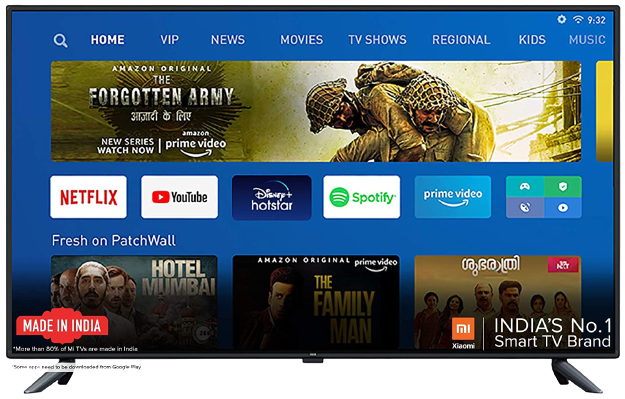 Display – 50 Inch 4K Ultra HD
Android TV
Google Assistant
Patchwall with a massive catalogue of 4K Content
Data Saver
Dolby Sound Quality
Universal Search
Built-in Chromecast
3 HDMI and 2 USB Ports
Bluetooth & Wi Fi Connectivity
Table top and wall mounting options
Kid's Mode
PatchWall has plenty of content options for the entire family. The new exciting lineup of content partners include Amazon Prime Video, Netflix, YouTube, Hungama and many more
2. Samsung 55 Inch Wondertainment Series Ultra HD LED Smart TV UA55TUE60AKXXL
Display – 55 inch Crystal Ultra HD with 4K Resolution
Multiple Voice Assistants
Game Enhancer – Experience smooth gaming
Watch your favourite content easily without opening multiple apps which is time -saving and efficient
Powerful Speakers
Personal Computer Mode
Home Cloud
 Live Cast Feature
3 HDMI and 2 USB Ports
Say goodbye to old hard drives. Because the Home Cloud feature lets you automatically save the most important files from your mobile phone to the Samsung Smart TV.
3. Philips 50 inch 6600 Series 4K Ultra HD LED Smart TV 50PUT6604/94
Display – 50 Inch 4K Ultra HD
Dolby Vision
Dolby Atmos Surround Sound
One Button Access to Menu
3 HDMI and 2 USB Ports
Miracast for Mobile Connectivity
Weight – 10.9 kg
Viewing Angle – 178 Degree
One Click Amazon Prime Video Button Remote
This TV has Dolby Vision + Dolby Sound, which will give you the Dolby level Sound and Picture quality at a same time
4. Sony Bravia 49 inch 4K Ultra HD Certified Android LED TV 49X7500H
Display – 49 Inch 4K Ultra HD
Android TV
Voice Search
Google Assistant
3 HDMI and 2 USB Ports
Built-in Chromecast
Bluetooth and Wi Fi Connectivity
Bass Reflex Speaker
Internal Storage Memory – 16 GB
Google Play store
SLEEP Timer
Weight – 12 Kg
If you are facing any issue to adjust or View 50/55 Inch Display size TV in your room, just check out for this one, It has 49 Inch Display Size
5. LG 65 inch 4K Ultra HD Smart IPS LED TV 65UM7290PTD
Display – 65 Inch 4K IPS Display
4K Active HDR with Wide Viewing Angle
20W Surround Sound
4K Upscaler
2 Way Bluetooth Connectivity
Airplay-2 to Connect Apple Devices
In-Built Home Dashboard
Slim and Simple Design
Google Assistant
 Smart Energy Saving
3 HDMI and 2 USB Port
Simple & Sophisticated Design
In-Built Airplay-2 Can Connect your Apple devices seamlessly to your TV to play videos, music, photos and more content directly to your TV
For More Product review, Please Click here and if you do not find product you want to review, please Contact us.